Some text
The darkroom is an opportunity to explore your vision long after the shutter has been released.
A Few Words About William Rehm
Born in Lake Forest, Illinois and raised in Gurnee, Illinois William Rehm at the age of twelve received for Christmas his first camera, a Kodak Instamatic 104 (remember the flashcube?).  He played around with it for a year or so and eventually put it down.  Much later in life in 1980 he purchased an Olympus OM-10 35mm.  Looking for a place to study black and white photography in northern Illinois he found there were none so in 1987 he moved to Los Angeles, California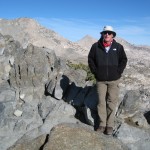 In 1988 William Rehm began taking night classes at a local high school in Burbank studying black and white photography and printing.  Within a year he was completely hooked. and moved to a 4 x 5 format.  Beginning like most amateur photographers, he began shooting landscapes to explore and hone his craft.  After taking a few  professional  and fairly disappointing workshops, he spent a weekend working with Rod Dresser at his studio in Carmel, California.  A master printer and photographer in his own right he is also a former assistant to Ansel Adams.  Taking what was learned during that weekend, he spent the next two years advancing his technique even further and began exhibiting throughout southern California.  One thing still was missing, the freedom to create sans landscape.  This became a huge and lengthy personal struggle to define the personal  why  of the photographic arts.
In 2002 and becoming increasingly bored with landscape work, he began searching for ideas and reasons.  Not to say there is anything wrong with landscape photography, it just seems to be as they say, beating a dead horse.  Taking a lengthy hiatus, reading art books versus photography books, and searching for inspiration, in 2003 he moved into the studio to begin what eventually became Portfolio One.
Focus Magazine February 2006